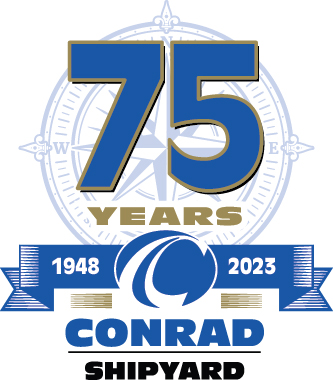 About Conrad Shipyard
Celebrating our 75th Anniversary, Conrad Shipyard is among the nation's most respected shipbuilders with a distinguished history of delivering safety, quality, craftsmanship, integrity and service.
With five modern and expansive shipyards located along the Gulf Coast in Louisiana and Texas; an experienced workforce and computerized manufacturing equipment; multi-disciplined engineers; and a management team laser focused on customer satisfaction, Conrad Shipyard is well positioned to provide cost-effective solutions to complex shipbuilding challenges.
The company's portfolio includes a wide range of vessels built for commercial customers and for the U.S. government.
We'd like to tell you more about how Conrad Shipyard can provide innovative answers to the critical needs of your fleet. Please contact us at here: https://www.conradindustries.com/contact.
---
Mission
We are a professionally managed business with adaptable shipyards providing competitive and high-quality design, construction, repair and conversion of marine vessels and structures in a safe, environmentally compliant, and timely manner.
---
Vision
We will sustain our position as a successful business by preserving our core values in all that we do; continuously improving employee satisfaction, customer service, shareholder value, operational efficiencies and corporate citizenship; and we will expand our products and services as necessary to meet the needs of the marine industry.
---
Core Values
As markets change, companies grow, and customer desires manifest, it is important to hold certain things constant. Since inception, Conrad Shipyard has remained true to our Core Values of Safety, Quality, Craftsmanship, Integrity and Service.  We remain sharply focused on worker safety and growth, on respect for each other and for our environment, and on a stewardship of our company that will provide profitability for our partners and shareholders. We pledge to hold a steady course on these values in the best interest of our customers, employees, partners and shareholders despite a changing business environment.
---
Quality Policy
Conrad Shipyard is committed to delivering high quality marine assets and services which meet all regulatory and contractual requirements.  We are dedicated to continually improving our Quality Management System in an effort to provide the utmost customer satisfaction.
---